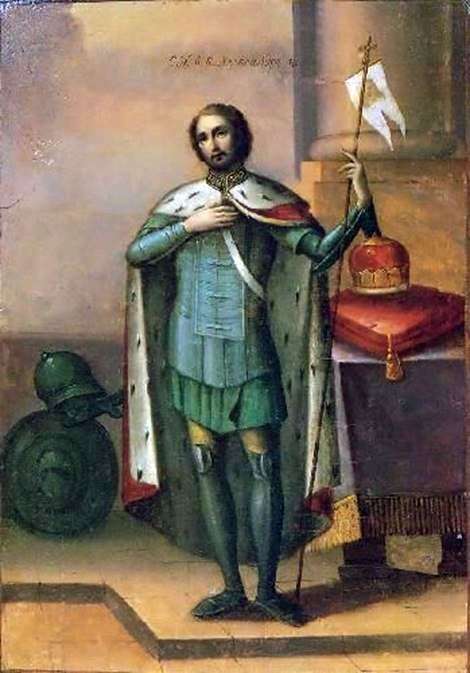 Almost 120 years after the death of the hero of the Battle of the Ice and the Battle of the Neva, Prince Alexander Yaroslavich, he was canonized. His relics, located in Vladimir in the Nativity Monastery, were later transferred to St. Petersburg in the Alexander Nevsky Lavra created by Peter the Great.
Everyone remembers the majestic silver tomb of the saint, built by the order of Elizabeth Petrovna and kept now in the Hermitage. Iconography of the pious prince exists in two variants.
In the first saint is depicted in a skincare attire, speaking in prayer to the Mother of God. In the second –
in military armor, on the shoulders of the mantle: standing near the throne with the attributes of princely power, he leans on a pole with a badge.
This type was most common in connection with the name-day saint of two Russian emperors: Alexander I and Alexander II. In its composition the icon goes back to the picture of Academician Vasily Shebuev "Alexander Nevsky". It is written in oil in a black and white manner and fully complies with academic requirements.
Although this work is difficult to attribute to the number of significant monuments of fine art, it is undoubtedly of interest as an example of official church art. In it, there are perceptible stereotyped receptions of a touching and sweet style of the "synodal period", diligently cultivated by the class of iconography of the Academy of Arts. Krasilin 1996.