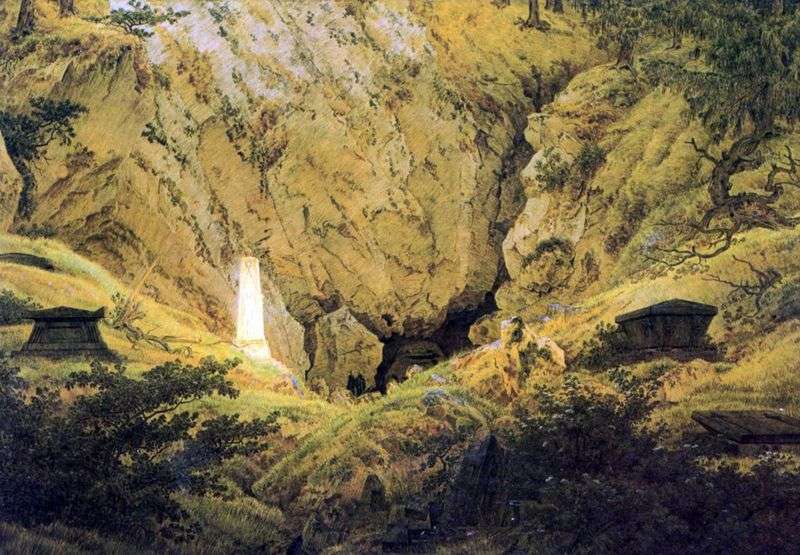 Like most Germans, Friedrich was extremely unhappy with the occupation of Germany by Napoleon's troops. The artist expressed his patriotism in many ways. For example, he dressed the characters of his paintings in national German costumes – as, for example, in White Cliffs on Rugen, 1818-19 and "The Rise of the Moon over the Sea." If in the midst of the Napoleonic wars the figures dressed in national costumes reflected the anti-French mood of the artist, then later they became a symbol of the liberation of the homeland. For a while, such symbols were very popular, but soon after the end of
the wars began to cause increasing irritation with the official authorities.
In the period of the liberation war, the traditional for Frederick religious symbols also became clearly expressed in political terms. Fir-trees and pines cease to act in his paintings as generalized Christian symbols, becoming symbols of the hope of national liberation. In the painting "Forest Road", in 1814 we see a French soldier, lost in a dense forest; in the foreground, on the stump, there is a crow – a symbol of imminent death, which awaits an uninvited guest. Frederick also wrote the graves of the fallen German soldiers. In his work "Tombs of Ancient Heroes," 1812, for example, he portrayed two French soldiers, standing in reverential horror at the tombstones of German patriots.