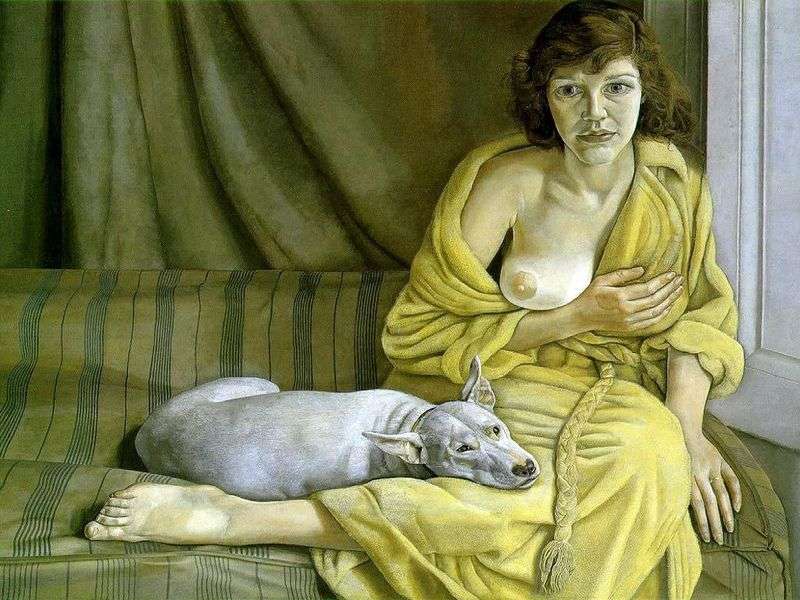 Lucien Freud, grandson of the famous psychiatrist Freud, is known in art criticism as a follower of formal subjectivism. His creativity, being under the influence of his grandfather, sought to emphasize the role of the unconscious in art. In the late 30's. the young man moved to London and took English citizenship. It was this circumstance that predetermined his future fate: Freud took up painting, dedicating his vocation all the time.
The main object of Freud's artistic quest is the human body. Without looking at him impartially, he does not hide the slightest physiological defect, somewhat aggressively exposing his nature. The pictorial language and the very image of the artist's work are quite complex.
"Girl with a white dog" – a portrait of the first wife of Freud and her bull terrier. The cold tones of the composition, the striped sofa on which the naked woman and the dog are located, the frozen looks directed at the viewer, create a feeling of both detachment and closeness of the depicted to the viewer. Snow-white skin of a young woman is written out with great care.
The nudity of the human body in general was a kind of mania in the work of Freud. He has an unnecessarily close look, a selection of the smallest details on the body, which seem to be viewed by the artist under bright artificial lighting. With age, the artist gradually changed the manner of writing. Always interested in nature, in adulthood, Freud began to paint landscapes, as exemplified by his painting Two Plants.