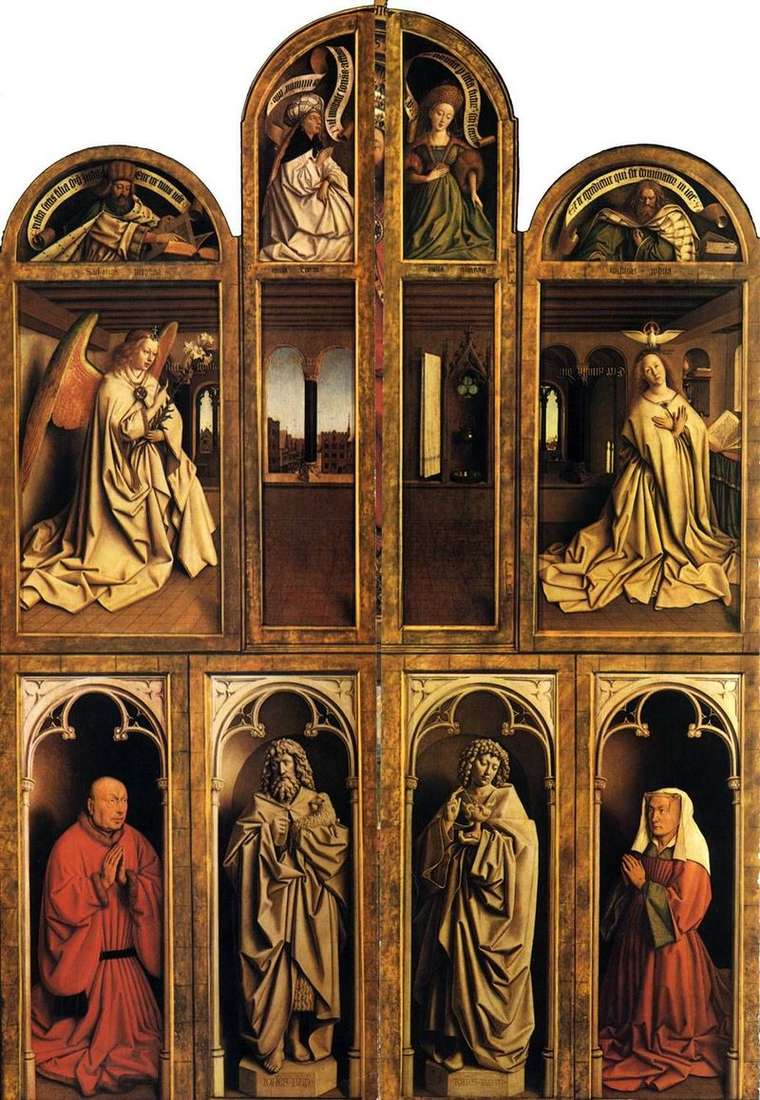 In the closed state, the altar resembles a room above an underground chapel. In fact, it is located above the ground in the castle with a view of the city below. The Annunciation takes place in this room, which is similar to the chapel of Mary. As in the Tryptich Merode, a niche with a vessel and a towel indicates the purity of Mary. On the left, in an adjacent space that is like part of a corner tower, the sun's rays cross the carafe with water.
It is a well-known symbol of the Immaculate Conception of the divine Infant from the Holy Spirit: like the glass of a decanter, which is not damaged by the
rays of light penetrating through it, Mary's body remains untouched despite the conception and birth of the Child. Maria and the archangel are dressed in white and resemble sculpted images. And in the rounded niches of the tier above them, the illusion is the opposite: the prophets of Zechariah and Mika, as well as the predicted coming of the King of human Eritrean and Kumek Sibyl are depicted in the form of sculptures most similar to living people. Cuming sibyls and prophet Mika are located over Mary and look at her.
Sibilla is similar to Isabella of Portugal, as can be judged from her portrait of Jan van Eyck, performed before her marriage to Philip Dobry. The court painter could include her portrait in the composition as a hidden sign of respect for her future coveted pregnancy. The lower tier consists of four niches, decorated with gothic ornament. Two external niches depict Iodocus Wade and Elizabeth Borlut in the form of animated sculptures that knelt before John the Baptist, the patron saint of the Church, and the Evangelist John, whose book was the main source of inspiration for plots within the altar. Thus, the external pictures illustrate the first words of the Bible, and the contents of its final lines are revealed on the inner doors. Even the frames of the outer flaps cast their painted shadow on the floor of the room,