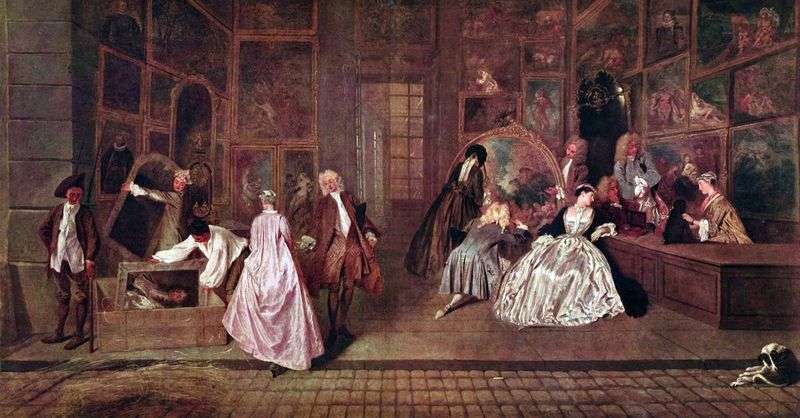 The painting was painted at the end of the artist's life. Before us is a small shop where art works were sold. The artist shows here the artistic environment, as a reflection of the whole society.
To the left of the door, the packers of paintings lay in the box the obsolete portrait of the late King Louis XIV. This is the recent past, but the past. On the right, with a noticeable irony, two "lovers of art" are shown – a lady and a gentleman, they relish the picture with a gallant frivolous plot. This public embodies the spirit of a devastated, insincere society. They are rather empty people, hiding their worthless interests under the guise of prudish charity.
But not the whole society is like them. In the right corner of the shop young people are contemplating a small picture. The picture is not visible to us, but the silent admiration of these spectators testifies both to the strength of true art, and about its true connoisseurs, who, with bated breath, listen to art.
These two groups of people are opposed to each other imperceptibly, subtly and witty. A mute dialogue, as it were, leads true connoisseurs of art and its fashionable companions.