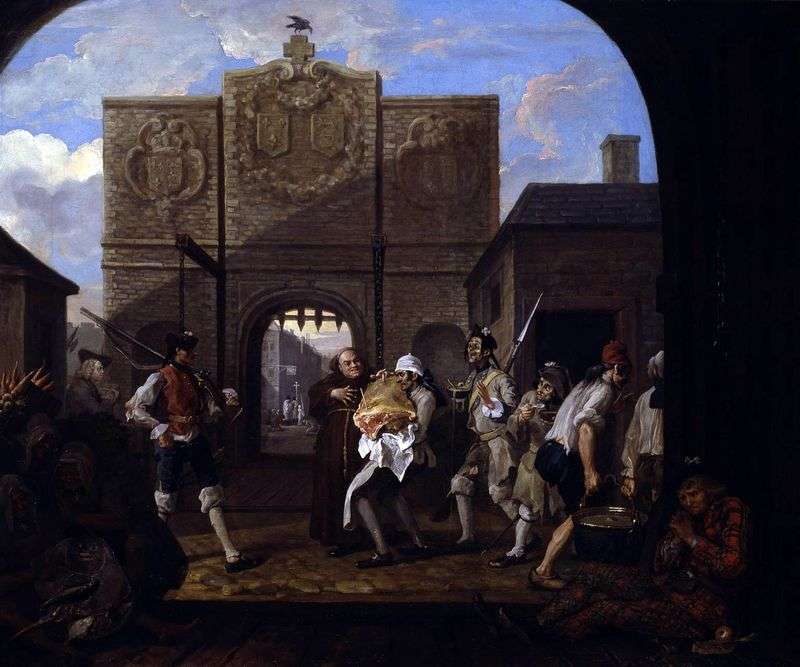 Hogarth was an ardent nationalist. This is reflected in the artist's work. He disliked the French, always looked down on them and portrayed them as squires who, in order to save on meat, eat fried frogs. He laughed at the official religion of France – Catholicism. Hogarth had a personal negative experience with the French.
Once in the French city of the artist was arrested as a spy, when he did sketches of the city gates. Not wanting to listen to his explanation, the local police put him in a boat and told him to get out of the country, threatening him with a hanging. Echoes of this incident – in the work of Hogarth "Calais Gate, or O, roast beef of old England."
In the left part of the picture, Hogarth deliberately depicted the artist making sketches. In this composition, Hogarth included another figure, serving as a constant target of his ridicule, a Scot who fled cowardly after an unsuccessful attempt to accomplish the Jacobite coup and restore to the English throne his "own" King Charles Stewart.