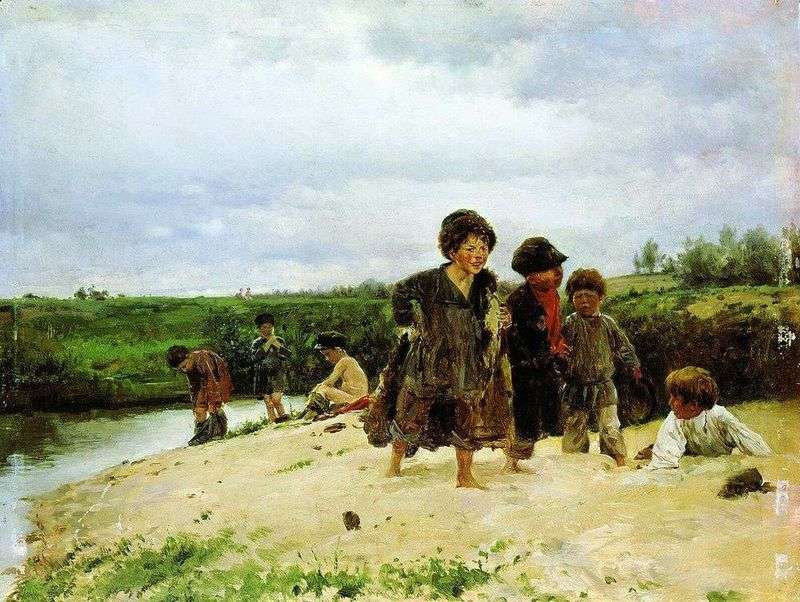 Picture of a positive mood. She pleases and gives a smile even to a very gloomy face. Thanks to the gaiety and excitement that were conveyed on the canvas in the mischievous gaze of some children, and in the annoyed that I had to interrupt the fun of others, Makovsky V. Ye. I boldly decided for myself to consider it a genius of a portrait. No one could, in my opinion, express their emotions, which infect with their positivity. At the same time, the landscape was rendered incredibly picturesque and believable. In general, the picture gives the impression of some kind of children's game that the approaching rain has decided to support.
Even after the artist quickly and imperceptibly for the heroes transferred them to the canvas, they did not cease to make noise, shout, laugh and cry. Their voices are heard, the splashing of water, there is a whiff of suddenly rising wind, so realistic is the scene from life. Heroes keep moving and talking. It is safe to assume that everything happened just an hour before this moment, and what will happen next.
On the canvas "From the Rain" I see seven guys who were playing and did not notice until the last of the clouds, a cool breeze, flying low birds. Most likely, they had fun. They swam in the river, told all sorts of fiction. Therefore, when it was no longer possible to delay, and urgently it was necessary to escape from the approaching cold autumn rain, some did not want to leave so much that they decided to linger.
The artist openly showed who is the instigator, whom almost everyone obeys. Facial expressions carry the main characteristics of boys. So, in the cheerful look and sly smile of the tomboy in the foreground of the picture, the main character of all the children's holidays and pranks is guessed. His best friend and "squire" came today with a younger brother. Which whimpers and either does not want to leave, or does not keep up so quickly to run on the sand for adult children. Another one of them fell. Rising, he glances doubtfully at those cat hesitates on the beach. He himself did not fully understand with whom he was more interested. Maybe he wants to stay? Those who are not in a hurry pretend that there is no reason to worry. But do not look at the guys leaving. Have a fight, maybe? Tomorrow everything will be forgotten, the rain will wash away unpleasant memories, and everyone will gather again on the shore.
The picture that is bright with its emotions makes one admire and reflect on the purity of the child's soul, its sincerity and simplicity. How carefree it seems sometimes childhood. How beautiful are the last warm days. How simple and clear relationship in kids. Having received real pleasure from the painting, I became infected with positive emotions and thoughts.