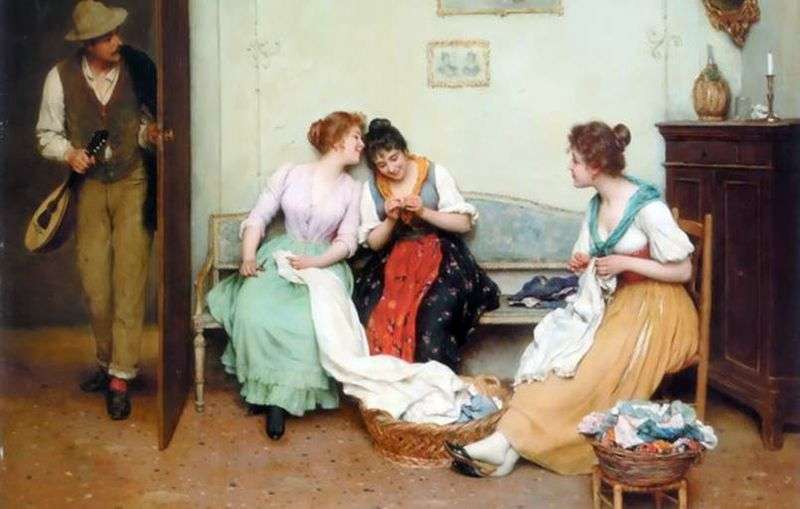 Rumors and gossip quite often mean some kind of muck. They are dismissed, as a rule, out of anger and envy of someone. Good rumors and gossip does not happen. However, if you are able to read between the lines, you can draw some of the truth about the person who "washes the bones". "Friendly gossip" is nonsense. And, nevertheless, the picture of the Italian artist E. de Blaas is just that name. Three young ladies of a not-so-noble estate settled comfortably in one of the rooms of the master's house. They are engaged in cutting and sewing – apparently, to order. Two settled on
the couch, one beside him, in a chair.
The work does not prevent them from leading a lively and cheerful conversation. And, as the name implies, about someone else. The poses of young gossipers are very expressive: one whispers something in the ear of the other, the third at the same time all turned to sight and hearing, slightly leaned forward. To her, too, the passion is as interesting – and what is said there!
The piquancy of the situation is due to the fact that behind the half-open doors, the most likely "culprit" of the conversation is a young man of typically Italian appearance, not dressed well, wearing a hat and a musical instrument, like guitars in one hand. While he assesses the situation and does not force events. One can only guess what will happen when he finds his presence. And anything can happen. However, this is already a story for another picture, unwritten…