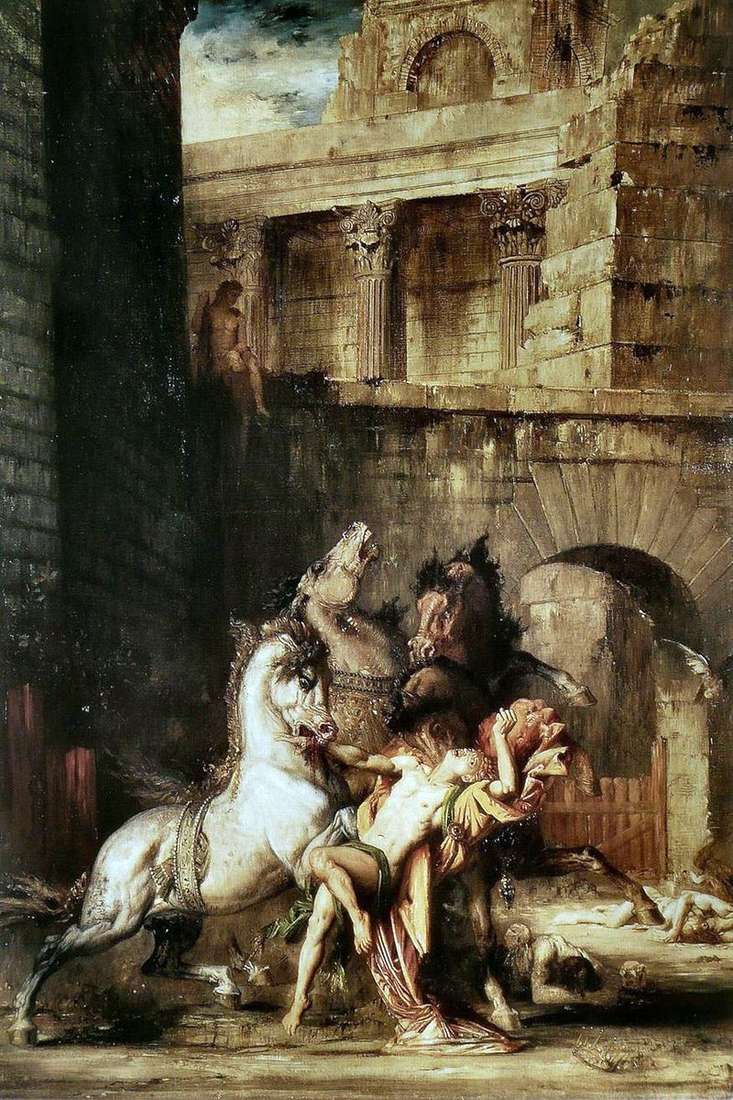 French painter Gustave Moreau loved to paint in mythological genre. The painting "Diomedes devoured by his horses" was painted by the artist in 1865. The plot is borrowed from ancient Greek mythology from the 12 exploits of Hercules. King Eurystheus instructed Hercules to go to Thrace for the horses of the king of the Beaston Diomedes. They were very beautiful and ferocious animals.
None of the fetters could hold their power, and therefore the horses were chained in stalls. Diomedes fed horses with human flesh, feeding them all the aliens arriving in his city. Hercules seized the horses by force,
in a fierce battle, he defeated Diomedes and threw him to the mercy of his cannibals.
The artist depicted the moment when the mares with a fierce whinny begin to torment the body of their master. The eyes of animals are filled with violent rage. Their powerful figures are in motion, they feel unstoppable force. Diomedes body is relaxed and depicted at the moment of the fall. His figure resembles the body of Christ crucified on the cross. Apparently the artist wanted to show this hopelessness of the situation. The red canvas wrapped around the body of Diomedes reinforces the state of tragedy. Nearby you can see the bodies of other dead people, defeated in a terrible battle.
Carrion birds begin to fly to their meal. In the background we see the ancient ruins on which a person sits. Perhaps the artist depicted Hercules himself, watching what is happening. The picture is made in warm colors. Brown, yellow, red hues, like fiery flashes, appear on the main figures. The statics of the distant plan and the dynamics in the foreground create a harmony of movement in the picture. The painting is in the Museum of Fine Arts in Rouen.