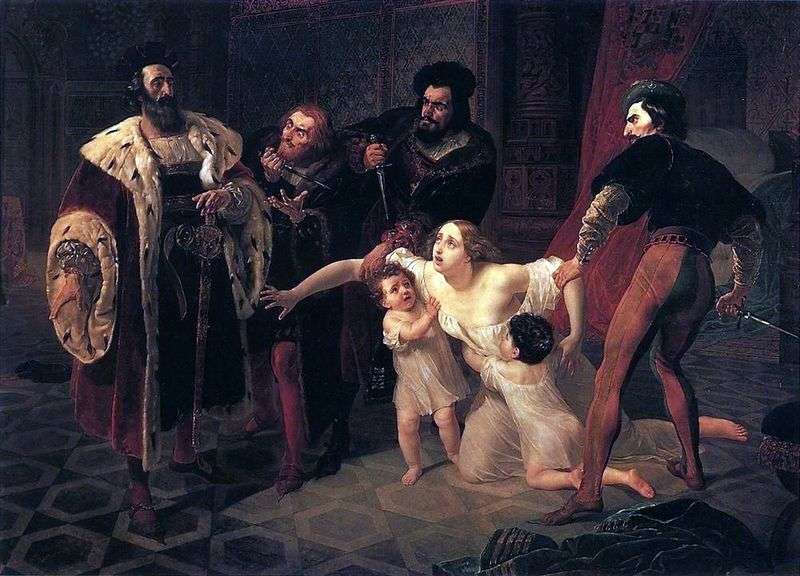 Before us is a drama from the life of the Castilian King Alfons IV-Portuguese. The court lady of the wife of the son of King Don Pedro Inessa captivated by her beauty the Infanta, who after his wife's death was secretly married to her, because his father had another candidate for wife to his son. The king's advisors discovered the secret of his son and gave it to Alphonse.
Don Pedro refused to marry his father's pretender. Then, by the decision of the Royal Council, it was decided to kill Inessa. After waiting for the moment when Don Pedro went hunting, the king and his advisers went to
Inessa. When Inessa realized what awaited them, she threw herself at the king's feet. The unhappy woman sobbed, begging to save her life. At first the king regretted the young woman, but the advisers persuaded not to succumb to unnecessary pity and killed the mother of two children.
Don Pedro did not forgive his father such perfidy and after his death found the immediate killers and executed them. The artist managed to convey the feelings of the mother, passionately pleading their killers. In dark, gloomy tones, the king and his minions are depicted, figures of Inessa and children stand out in a bright spot. And again in the depiction of a woman, Bryullov remains faithful to classicism, and in the choice of the theme, in the depiction of passion, she inclines towards romanticism.