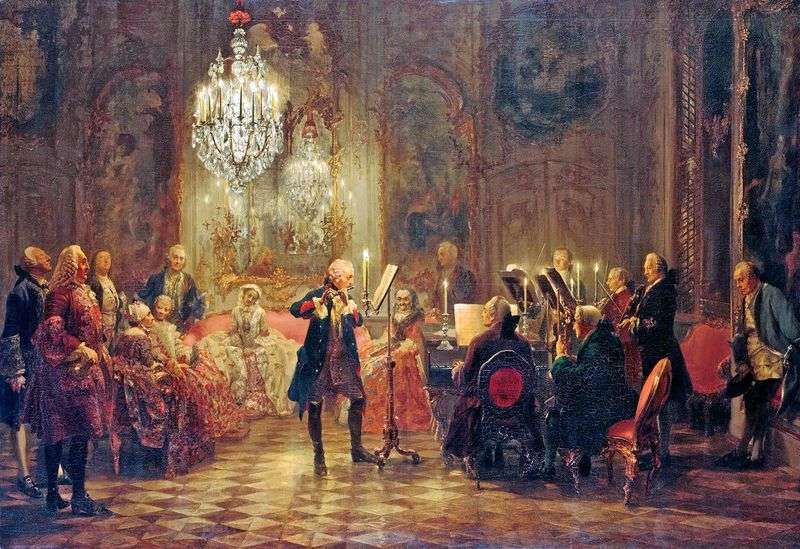 Adolf Menzel received his first skills in art from his father, he later attended the drawing class at the Berlin Academy of Fine Arts, but was not satisfied with the teaching system and continued to study on his own.
The artist traveled a lot; his work was significantly influenced by his acquaintance with German and French painting. In the history of art Menzel entered as a realist. The greatest fame brought him work associated with the name of Frederick the Great.
For the first time, Menzel addressed this topic at a time when he received an order for the production of illustrations for the "History
of Frederick the Great" by F. Kugler. Frederick II the Great became for Menzel the ideal ruler. Interest in his personality intensified with the artist after the revolution of 1848, and in 1849 he began to create a series of 11 canvases dedicated to the era of the enlightened reign of Frederick II. One of these canvases is The Concert of Frederick the Great in Sans Souci.
The artist carefully studied the life, history, art, literature of the era of Frederick. Menzel sought to reliable interpretation of the image of an enlightened monarch. The paintings of the series became one of the most famous works of the artist. They influenced the creative search of Russian artists of the association "World of Art". Other famous works: "Railway Berlin-Potsdam". 1847. State museums, Berlin; "Funeral of the March victims". 1848. Kunsthalle, Hamburg.