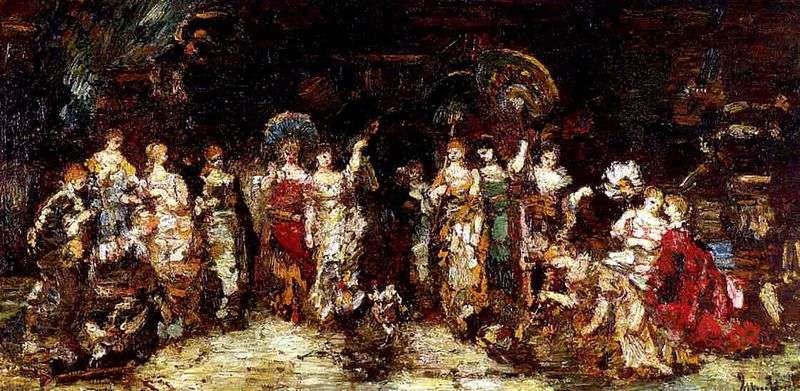 Adolphe Monticelli – one of the controversial figures in art. Some insist that this figure is insignificant against the background of other contemporaries, while others, on the contrary, say that the artist was a precursor of impressionism and even Fauvism. Oscar Wilde lamented the fact that he had to sell many Monticelli paintings because of his ruin.
Nevertheless, the master belonged to the type of people who confidently follow their style, relying entirely on their vision and the strength of their hands. The presented picture instantly attracts attention, primarily due to the unusual "ragged" impulsive technology. Indeed, the artist worked unusually – he did not bother with preliminary pencil sketches, wrote quickly with a brush, spatula, and sometimes fingers. Against a dark background, a strange plot appears – battles of roosters, which, huddled together in an uneven semicircle, look at women.
It is very difficult to identify the figures of both birds and people in the picture – their outlines are blurred. The second thing that attracts attention is the use of clean and bright colors, which give the work a unique charm. Such a reception – bright blotches of colors on a flat dark background – the artist's favorite trick.
Monticelli was not recognized by the art world during his lifetime – his work was subjected to criticism and caustic characteristics. Only more than 20 years after the artist's death, the first exhibition of his works became a sensation, causing a genuine interest in the work of an almost forgotten master.