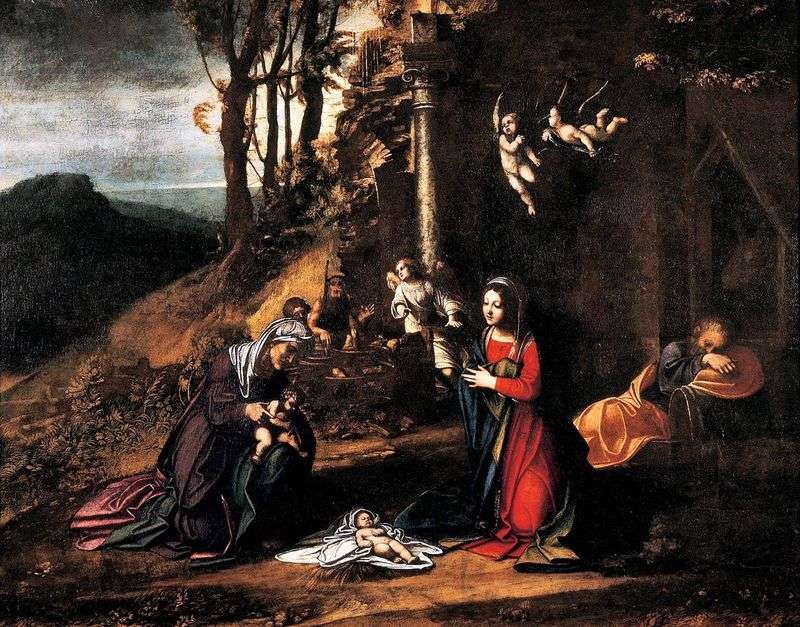 A great place in this picture is given to the details of the landscape, depicted in great detail. Pay attention to the thin rays, coming down from somewhere above, because of the stolen paintings. It must be assumed that these are the rays of the star of Bethlehem. The new language of painting Creativity Correggio coincided with a turning point in the development of Italian art of the XVI century.
The artist developed the teachings of Andrea Mantegna about using the perspective to create an illusion of the depth of space, as well as the tradition of classical art, combining them with the subtle colorism typical of Northern Italy painting. The formation of the master's style was influenced by the Roman school.
Researchers believe that around 1513 Correggio could see the "Sistine Madonna" Raphael, just at this time brought to Piacenza. Subsequently, in 1518, the artist made a trip to Rome, where he saw not only other works of Raphael, but also the ceiling paintings of the Sistine Chapel, completed by Michelangelo in 1512. Creatively rethinking the style of the masters of the Renaissance, Correggio came, in the words of Vasari, to the "new manner" that preceded the appearance of Mannerism.