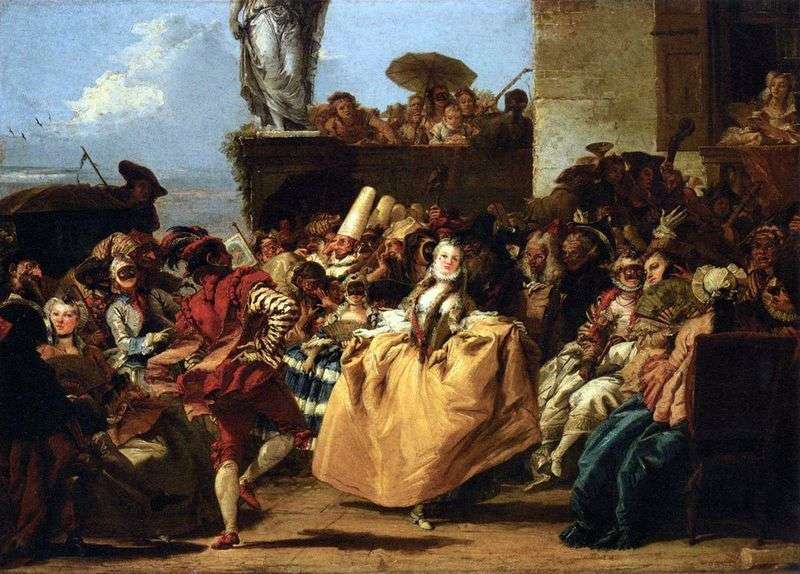 The Venetian painter and engraver Giovanni Domenico Tiepolo studied painting with his father JB Tiepolo. From the middle of the 1750s the artist independently carried out orders, and in 1760 headed a workshop in Venice, but in 1762 he left for Spain. After the death of his father, Tiepolo returned to Venice, where in 1780 he became president of the Venice Academy of Arts.
Tiepolo painted paintings on everyday and mythological subjects, devoted them to historical themes, and was engaged in monumental painting. In his work, the artist managed to give his own deeply personal interpretation of the Venetian carnival, which was personalized. He presented a new theatrical world, full of ironic appreciation, poetry, delightful idleness. A piece of this wonderful world, created by the artist, is the picture "Carnival scene, or Minuet", a pair of canvas "Zuboder".
However, with all the force the theme and plots of the carnival found expression in the monumental paintings executed by Tiepolo in his own house. The artist became known also for his satirical works, filled with acrid irony of engravings. Other famous works: "Minuet performed by Columbine and Pantiapan". 1756. The Art Museum, Barcelona; "Charlatan". The middle of the 1750's. Louvre, Paris.