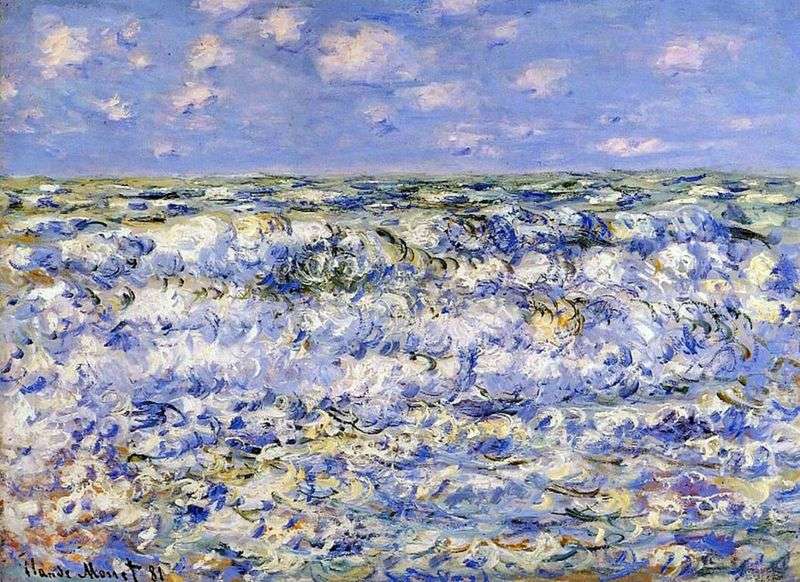 Date
The painting "Breaking Waves" was written by Claude Monet in 1881, it is one of the most dramatic works of the artist, written on the coast. Dark sharp thorns of big stones lying on the bottom and cutting powerful waves peep out of the water. All this is very close in spirit to his favorite engraving "The Great Wave in Kanagawa", made by the famous Japanese artist Katsushika Hokusai. Monet wanted his work began to recognize more and more elite segments of society, he also wanted the viewer to feel the connection of his own picture with Japanese motifs, so hotly loved by him.
Many impressionists and realist artists of the time painted literally every corner of the Norman coast. Edouard Manet, the famous marine painter of the 1860s, was also influenced by Japanese prints. Jean-Francois Millet and Gustave Courbet are one of those artists who fruitfully spent time on the ocean.
In the 1880s, Monet chose more abstract modes, embodying the orientation of the rocks and the tide of the sea around the weathered rocks, this can be well seen in the painting "Etretat, Port D'Aval." In his "Crashing Waves" of 1881, he followed the example of "Sea silence" Courbet, in which the artist directly and simply divided his picture horizontally to the sea and sky – but Monet's picture is radically different from it. Gustave Courbet emphasized the content of the sea – its luminosity, a vast recession – while in the pictures of the surf he depicted rearing waves and their breakthrough into foam.
Monet's picture is very discouraging, consisting of a series of loose curved strokes of the sea, painted with thick strokes of paint, only thanks to a strip of smooth strokes look like a horizontal section of the sea. It may seem to the viewer that these abstract brushstrokes create a feeling of endless movement of the waves and glare cast on them by the noonday sun. The picture almost distorts his statement of the pure materiality of the environment, but this is materiality, which can instantly convince that the hardened paint looks mobile and liquid.