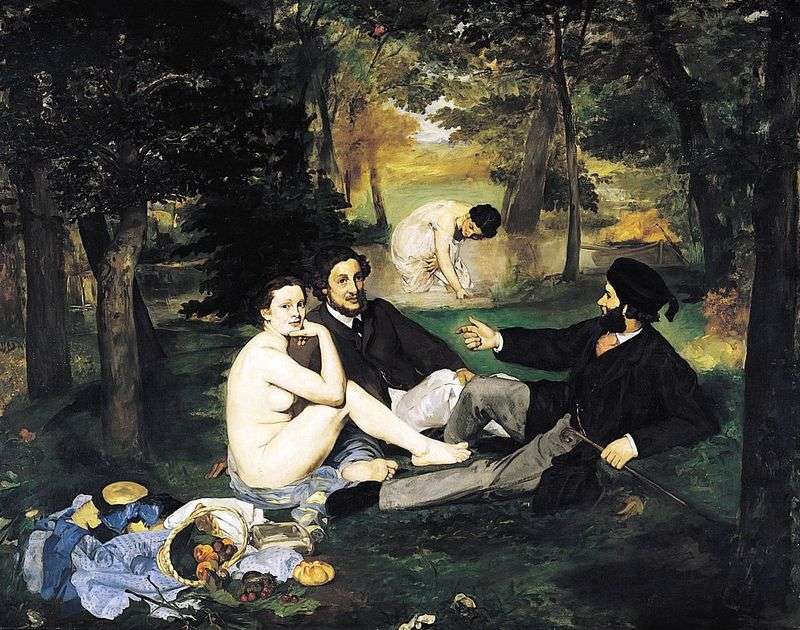 The painting, originally titled "Bathing," did not hit the Paris Salon – as well as three thousand other canvases, the jury did not allow it to be displayed. But all the rejected works were presented to the public at an unofficial exhibition – in the Salon of the Outcast, opened on the initiative of Napoleon III.
The audience took the story "Breakfast on the grass" with indignation. The shameless glance of a naked woman in a society of dressed men caused unprecedented outrage, especially since the characters depicted were well recognized. The girl easily guessed Quiz Meran,
who often posed for the artist and also was his mistress. She was known for her cool temper and rude speech. The men in the picture are the brother of the artist Gustav and his future brother-in-law Ferdinand Leenhoff.
Representatives of the stronger sex are passionate about conversation and do not pay attention to the naked girl sitting next to them. Due to the lack of shadows and too dark deep background it seems that the action takes place in the studio. The paint is applied in sharp strokes, so the canvas looks unfinished in some places.
The idea of writing this work arose from Manet during a trip along the banks of the Seine. The composition is inspired by the engraving by Marcantonio Raimondi "Judgment of Paris", created on the basis of the drawing by Raphael. Stylistically, the work is very different from those performed in the academic traditions of the time.