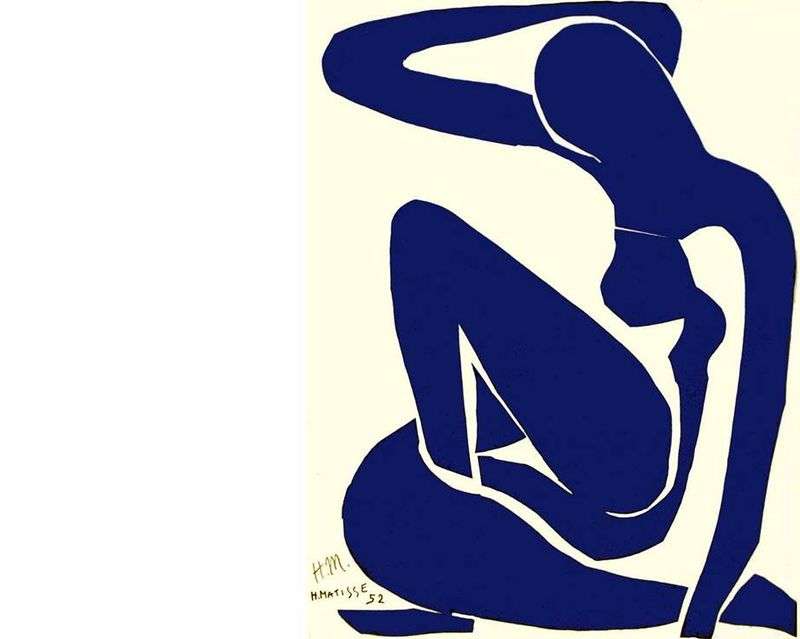 Looking at this picture have a feeling of lightness, light, purity, peace and harmony. White pieces complement the blue and vice versa, it can not be something clear here: harmony immediately disappears. For the infinite unity of the surrounding white, white space, and blue-blue form. And it is impossible to imagine any of the other combinations of colors, except this one. Perhaps the meaning of this work is – harmony.
Subsequent reading other sources strengthened in the ensuing sensation. And when I saw how the creative search, very happy: how can facilitate application this work and how it resembles a sculpture on the plane.
"Impact" Blue Nude "like Matisse exposed sculptures made out of some intangible-material. They have physical and sculptural at the same time, planar, decorative accuracy. Cuts occupied from Matisse weeks of torment and error before he found a satisfactory solution."
"Application – he said – allows me to paint the color I'm so easily instead of drawing shapes and fill them with color -.. When one modifies the other – I just paint with color."
In one source as much as I have read in support of his feelings as follows:
"These works must stand alongside bright, filled with a sense of joy works ever created by artists in old age Unlike many of his contemporaries Matisse did not try to show the suffering experienced in his work.." What I dream – he wrote – so it's about the art of harmony, purity and rebellious, restless and disturbing devoid of motives, similar to a remedy for the mind – something like a comfortable chair where you can relax after physical exertion. "
"Blue Nude" – one of his last works is essentially the result of a creative way. In fact, Matisse's work was very hard to take. Here there is a good selection of his work. It seemed to me that the general in them – it's color balance, color spots are balanced with others and in size, and shade and form. There is nothing superfluous.
"If one of my paintings have some red spot, it is unlikely it will become the heart of the work. The painting is made independently of it, you can remove the red stain, but the picture will remain, but from the work of Matisse is impossible to remove a spot of red -… It does not matter, as it is small – that the whole picture is not immediately collapsed. "