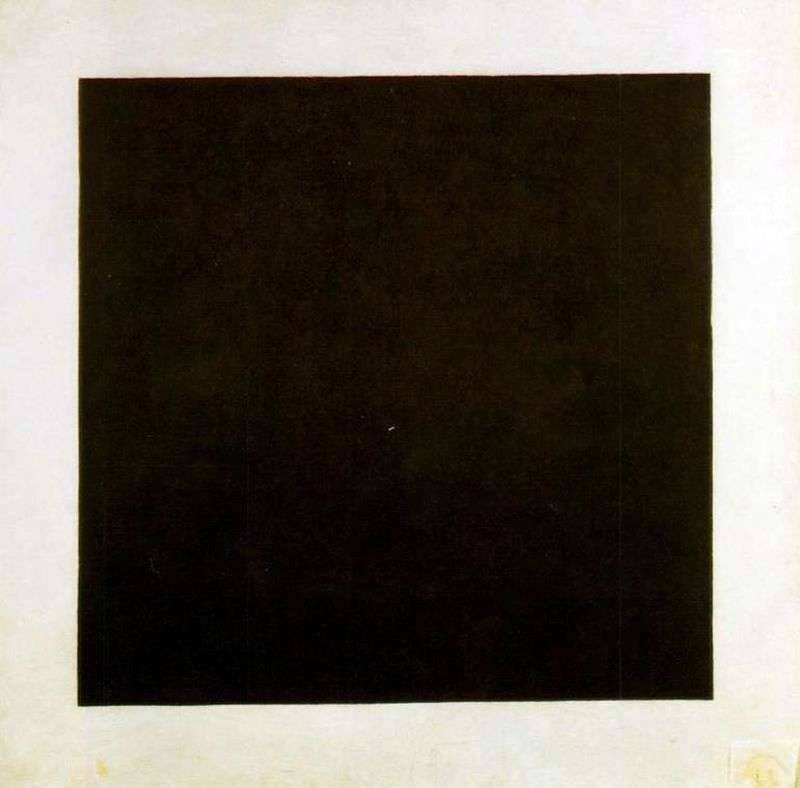 Kazimir Malevich in the history of his artistic career has gone through several stages, at different times, focusing on different aspects of art. The vision of the artist gradually changed, the result of these changes became paintings, most likely reflecting the essence of each period. However, despite this diversity of works of the artist's most famous painting by Malevich was the painting "Black Square".
The painting is a small canvas width and length of 79.5 centimeters. The background is made in white in the center shows a large square black. Despite the seeming simplicity of creating this painting, Malevich claimed to
have worked on it for several months. The picture was painted in 1915, and at the same time the public has been demonstrated.
The exhibition, entitled "Zero-Ten" was held in St. Petersburg in December 1915. Malevich introduced there a cycle of paintings "Suprematism of painting." The name of the exhibition had a special meaning associated with a new concept developed by Malevich. The new idea was to tend to zero, and in the future – in going beyond its limits. In this respect, particular importance was the painting "Black Square". The importance of this web emphasized its location at the exhibition: the work was there, where traditionally placed icons in their homes, in a place that is called the "red corner".
For "Black Square" by Kazimir Malevich did not come immediately. Forerunners of this work appeared in the period of work on the opera "Victory Over the Sun", which Malevich designed the scenery together with like-minded people. One of the sets was then conceived as a black square instead of the sun. Such a move had to express the idea of an active human creativity triumph over nature.
"Black Square" was only one of the basic Suprematist paintings. Among them were also paintings "White square on white", "red square. Picturesque peasant realism in two dimensions."
The reaction of the critics on the scandalous picture was mixed. However, once there were reviews that claimed that the "black box" – a modern alternative to traditional icons, indicating the search for a new religion, a certain chaos of the present. The artist claimed that the "black box" – a symbol of the completion of art, its top and at the same time of the end. Indeed, the painting depicts the mysterious abyss, which, as it draws the viewer and leaves unlimited room for imagination.