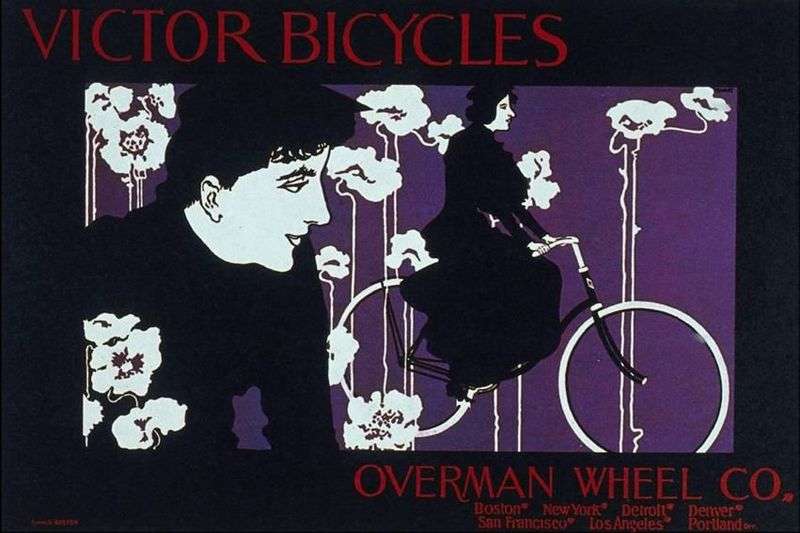 The surprising phenomenon of the 1890s, both in Europe and in America, was the so-called "bicycle madness". Especially loved the bicycle modern emancipated women. Susan Anthony, the famous American feminist and women rights activist, said that it was the bicycle that more than anything else that contributed to women's emancipation.
The desire to ride a bicycle led to the emergence of rational women's clothing, without lush skirts. It is to this problem that the advertising poster Bradley is devoted. Admiring spectators in the image of a female cyclist, he had the goal of influencing potential customers.
Bradley again uses several colors, simple graphic lines and a modernized stylized floral motif. The graphic techniques of the artist resemble rectangular forms, characteristic for both the works of Margaret MacDonald Mackintosh, and for the artists of the Vienna workshops – Moser and Josef Hoffmann.
Poster Bradley, advertising a bicycle, appeared in the almanac of Jules Schere "Les Maitres de l'Affiche", he also stamped on a commemorative American stamp. Other works Bradley, advertised bicycles, were also executed in the Art Nouveau style and recalled the work of his French and Belgian colleagues. However, in the first poster, which was discussed, there are some traits that foreshadow the emergence of modernism.