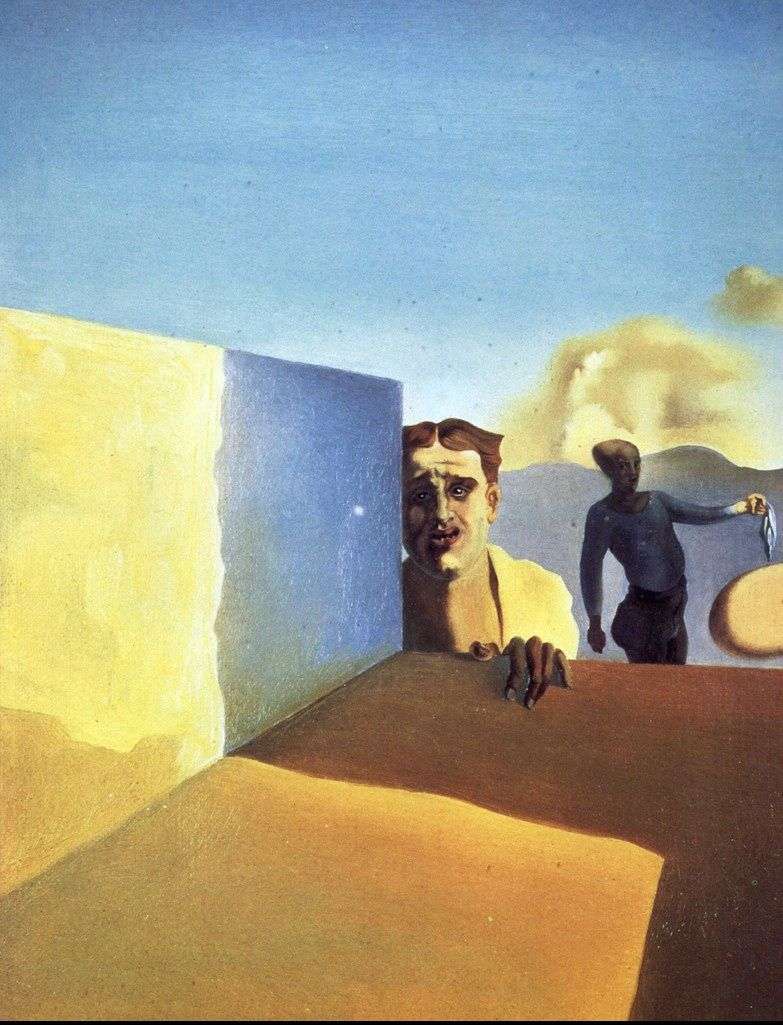 The colors of this picture are typical for the works of Dali: azure and shades of yellow. The first plan is a ledge from the stone blocks. Behind this design, leaning with his hand on a horizontal surface, stands a man. The viewer sees only his head, shoulders and a hand.
At the person the brown hair combed on a straight parting on a fashion of that time. The features of his face are distorted by a grimace of regret. The backdrop of the picture is the mountains and the swirling golden cloud. Against his background, another character is seen. He is a man with a strangely deformed, hairless head and hypertrophied
buttocks. In his hand he holds a twisted white handkerchief. Hanging down the fabric points to an oval object of corporal color, hidden behind the canvas cut.
We see only its rounded edge. Perhaps it is a surreal extension of a limb or a buttock, typical of Dali's paintings, equipped with one or more props. Or the architectural form of rounded outlines. The composition of the picture and the play of chiaroscuro make the viewer's imagination rush to the right edge of the canvas, painting the possible variations.
The artist throws the bait, offering the audience a riddle without an answer. The conditions of the problem are clearly incomplete. In the picture there is too little certainty to justify such a bizarre name. But to ask "what did the author want to say?" Is likely to be a mistake. Dali, following his sarcastic manner of dialogue with the audience, does not say anything: he only offers a game of charades.
And at the end of the game, it may well turn out that the magician's hat is empty, there is nothing behind the picture, and the master, chuckling, confesses that he cheated.