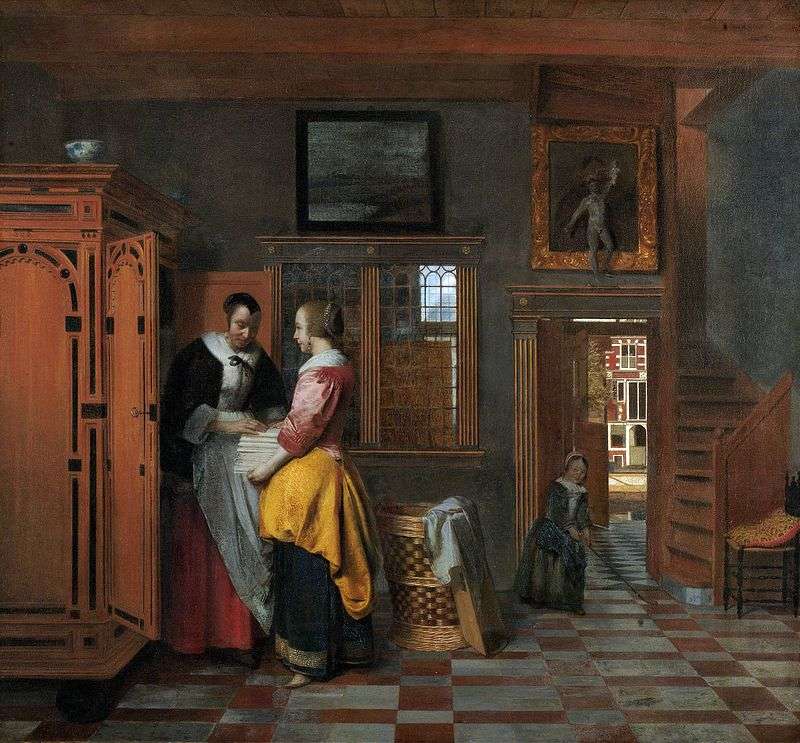 The Dutch master of the Baroque era, Peter De Hoch, was one of the leading representatives of the 17th century Delft school. He was born in the family of a mason, he was valet of the rich merchant of the cloth Y. Dela Grznje and thanks to this circumstance he visited many cities of Northern Europe. Painting Hoh studied in Harlem in N. Berhem.
The formation of the artist was significantly influenced by the works of K. Fabricius and J. Vermer. In 1655 Hoh was admitted to the Delft Guild of St. Luke. The works of the painter are devoted to the ordinary, little outstanding events of the quiet quiet life of the burgher family. The interior is served by courtyards or cleanly cleaned rooms. For pictures of Hoch is characterized by an exquisite accurate pattern with a calm color and unobtrusive color accents. The master possessed an amazing ability to capture the "moment of being" – for a moment, a stopped conversation, some action. This ability makes Hoh's paintings attractive, creating a sense of mystery, although there is apparently nothing unusual in the image.
Such a perception of Hoch's painting is also promoted by his virtuosic mastery of a realist, capable of turning everyday life into an interesting spectacle. Other famous works: "Mistress and Maid". OK. 1660. The Hermitage, St. Petersburg; "The Courtyard". 1658. National Gallery, London.