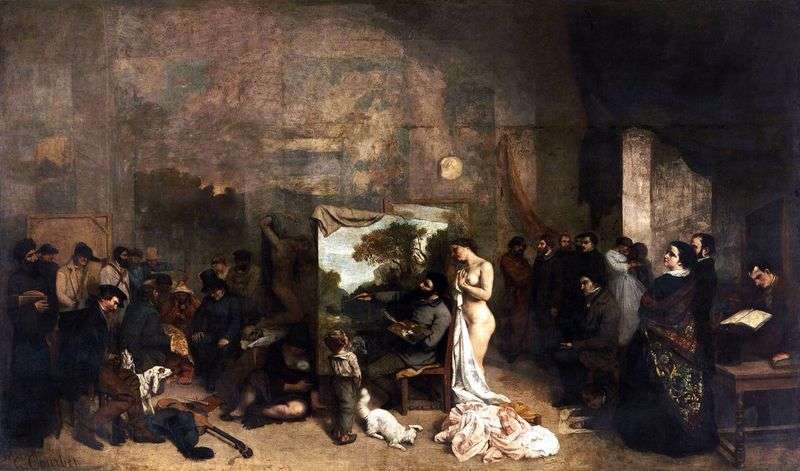 Finishing work on the "Artist's Workshop", Courbet shares with his friend – the writer Shanfleury: "People who like to express their opinion on any occasion and wake up in the middle of the night with a passionate desire to discuss something and, of course, condemn, these people will have a lot of fun, seeing my new picture! ".
Courbet was not mistaken. "Artist's Workshop" becomes an inexhaustible source of inspiration for critics. The painting was subjected to a severe assessment of the jury members of the Paris World Exhibition in 1855 and was strongly
rejected by them. Despite this, Courbet organizes his own independent exhibition, in which he presents not only the "Artist's Workshop", but also "Funeral in Ornan", as well as several other of his works. If the very name of the picture was able to intrigue the critics, then what to say about the composition and the theme – interpretations there was no number. What did not this painting consider: esoteric, masonic, symbolic, realistic, political, sociological…
There is a testimony of the author of the "Workshop" that he tried to capture himself, his loved ones on the canvas, and also present the society in which he had to live. The figure of the artist is located in the central part of the picture – he sits in front of the easel. Waving his hand with a brush causes associations with the gesture of God from Michelangelo's Creation of Adam. The artist is depicted at work – he seems to be completely detached from what is going on around him. On either side of it are two groups of figures.
On the right are close friends and people who support the artist. In the foreground, on the table, was the poet Baudelaire, fascinated by reading. Not far from him, on a stool, the writer Shanfleri settled himself. A little further is a group of five people, among them the philosopher Proudhon and philanthropist Bryuja. Behind the artist stands a nude model – a symbol of life-affirming creative energy, to the left – social allegories: a group of poor people, a thoughtful peasant woman, a small boy in ragged clothes and a hunting dog.
The picture is sustained in a warm brownish-yellow color scheme. She is rightly considered one of the best works of Courbet. Colleagues of the artist called this work a real artistic feat, because they found it very personal, and, therefore, trampling on the academic foundations that forbade personalization up to the level of a historical epic.