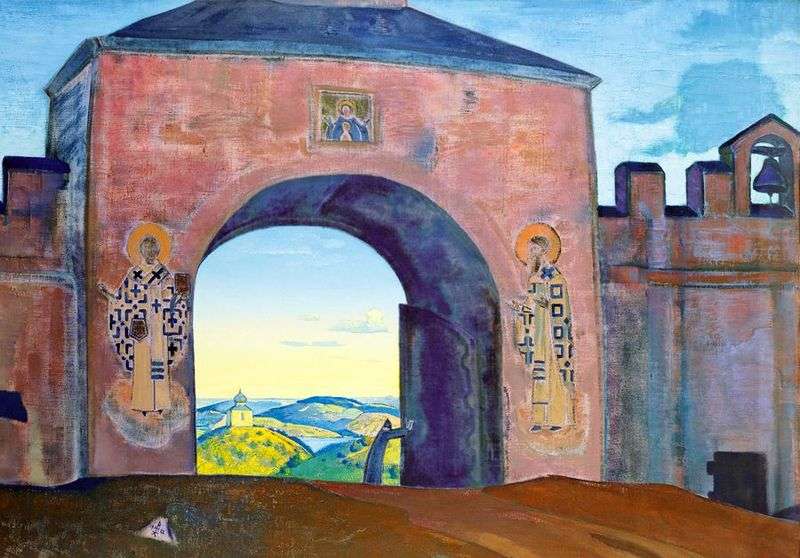 The painting "And we open the gates." Here Nicholas Roerich addresses the topic of "spiritual openness", which St. Sergius of Radonezh called for.
We see a monk opening the arched gate, behind which is the road leading to the old Russian monastery. Through open gates one can see wavy hills, a winding river – a landscape so characteristic of northern Russian nature. On one of the hills is a chapel. "No one and nothing can deprive a person in striving for a brighter future, for the open gates of Light," the artist wrote.
Gates divide the picture into two compositional
and semantic plans. Outlining the line between the earthly world and the divine, the artist allows the viewer to feel the very moment of passage through the "holy gates" into the world of the spirit. For many centuries, St. Sergius of Radonezh has been associated with such concepts as "light" and "light".
The picture reminds us of the need to be open to another world. The walls of the monastery are painted with twilight sunset light. We see glimpses of light emerging from the depths of the monastery's space, which become brighter as we approach the viewer. These small lights of light are the flame of candles burning in the hands of monks. But this is only an external layer of understanding the picture.
The deep meaning is in the sacrificial path of the monks, who left the peaceful life of the monasteries and left in this gloomy world, in order to bring him the light of knowledge in selfless service. Candles in their hands symbolize this light. Everyone knows that in Russia, St. Sergius of Radonezh for many centuries has been associated with such concepts as "light" and "torch".