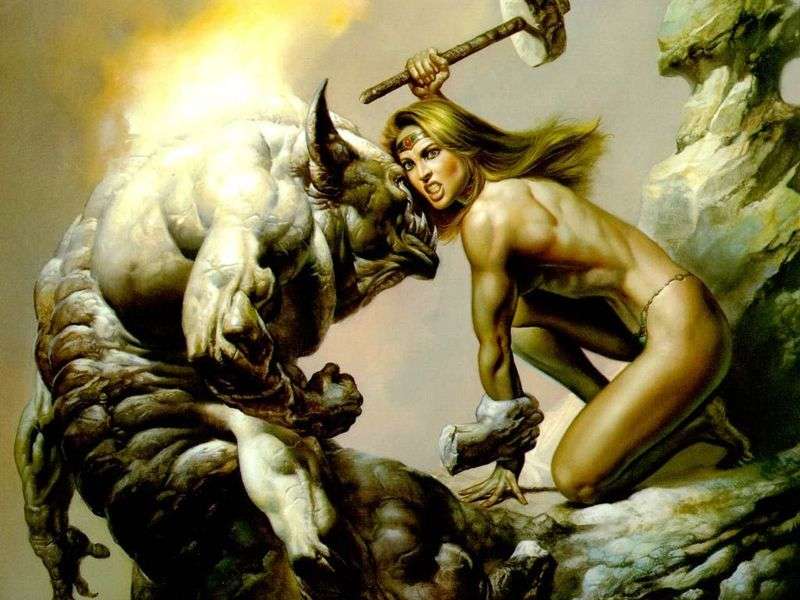 In the generally recognized classical literature, the Amazons for the first time appeared in the publication of the work "Alexandria" Pseudo-Callisthenes and in connection with this became known throughout Europe. In the Serbian edition of Alexandria, the Amazons are called "Amastron wives" and appear to be very beautiful and warlike girls who, however, without struggle, humble themselves before Alexander and send him reinforcements against the Hevromitra.
The Czech Amazons, according to legend, recorded in the poem chronicle of Dalemil, were courageous women who, having killed their husbands in 739, began a seven-year war with men; their leader was called Vlasta; after a long struggle, they were defeated by deception.
In the heroic fantasy of Boris Valedjo, there is certainly an erotic aspect. The amazons depicted by the artist have an irreproachable figure, magnificent hair and a beautiful face, but the eroticity of these women is very ambiguous – it is, rather, in some challenge, awakening the instinct of the conqueror in a man, the desire to have an independent female. Conquer such a difficult.
In the painting by Boris Valledjo "Amazon and Monster" you can see how magnificent the enraged Amazon is in battle, in a passionate desire to win at any cost. A beautiful wild animal.