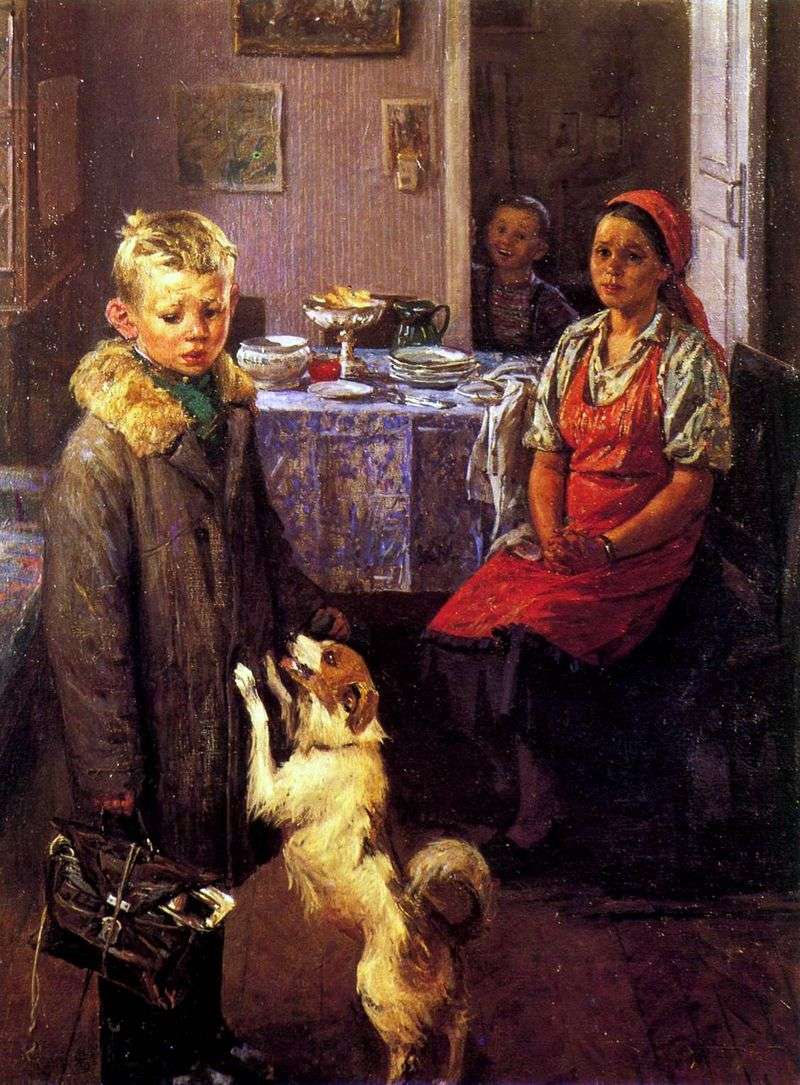 We see the famous picture of the artist Reshetnikov. In his work, he depicted a family that is waiting and meeting his son from school. The foreground of the picture is occupied by a boy. He is blond, wearing black pants and boots, wearing an old coat over him. His disheveled hair and lop-earedness create the impression of a mischievous and mischievous, he sadly looks at the floor, the boy is clearly upset about something. His briefcase is pretty battered, he is even tied up with a rope, not notebooks and textbooks stick out of it, we see skates.
It seems to me that he uses his portfolio when he defends or initiates a fight. Of all those painted in the picture, one dog meets the boy. She got up on her hind legs, and as if flirting, asks to play with her.
On the right in the chair sits the boy's mother. In her view, you can guess that she is again upset. Probably because she is again called to school. Near her, the younger brother is riding a bike, he smiles looking at the dog. He is too small to realize that their mother had upset him so much. On the back of the picture is painted sister. She is the eldest of all, and also recently returned from school. She had not had time to take off her school uniform and a red pioneer tie. Her hair is neatly gathered in a braid. She is getting ready to start doing homework. Immediately it seems that the girl is an excellent student. I think she pities her mother more than her brother.
I do not consider the main character a negative character. And my attitude towards him is even. I believe that my sister is able to help her younger brother figure it out and pull him up on problematic items. I really liked this work, I have not seen anywhere. What would the artist so accurately able to portray the mood of the whole family.