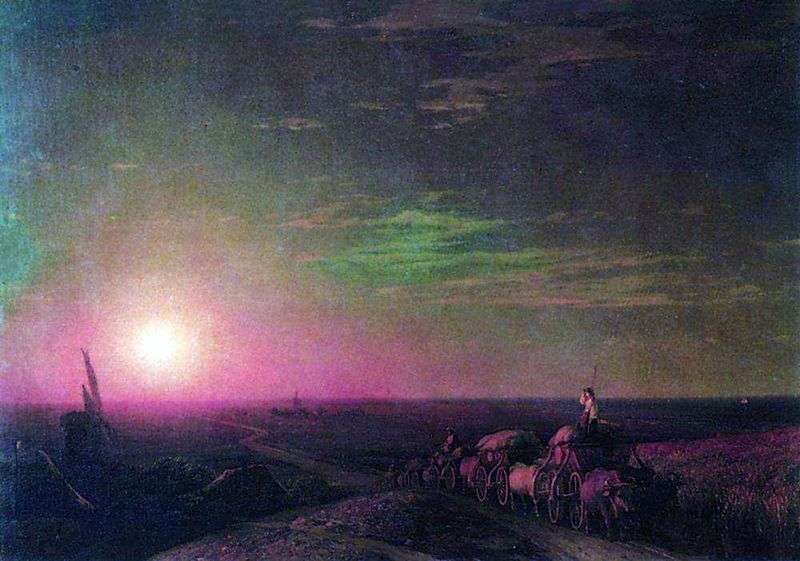 In the work of IK Aivazovsky a lot of works on different topics. Most of all I was amazed by the pictures depicting the nature of Ukraine. Especially I liked the work "The Chumak's Wagon", which Aivazovsky wrote in 1862.
The canvas depicts steppes, endless fields and a road that leads beyond the horizon. The large carts, with hay, depicted in the picture reminded me of the approaching summer. Just wanted to smell the fresh hay, plunge into the village atmosphere. Chumaks are Ukrainian merchants who are driven along a country road by hay on trains. One of the carts depicts a girl dressed in a national costume, she looks at the sunset, perhaps singing a song. Everyone sees in this picture something different. It seems to me that she is tired looking at the sunset and dreams about the coming of tomorrow, or maybe she dreams of plunging into the sea. Colors, as painted a work creates a calm mood.
In his painting Aivazovsky managed to convey the mood of a warm summer evening. The sun, which has not yet managed to hide behind the horizon, windmills, perfectly fit into the landscape. If I could add something, I would finish the dog running next to the train, or children running along the country road.
When I looked at the picture "The Chumak's Wagon", it seemed to come to life. The windmills did not spin, because there was no wind, the chums with their wagons walked slowly, and I even for a few seconds imagined the sound of the sea. I really wanted to become a hero of this work, to manage for example a wagon, or to be one of those children running across the road, which I would finish. The picture of Aivazovsky made an indelible impression on me, made me dream and dream. I became both an artist and a participant of this work.